Enjoy the best legal cannabis in the Rockies with our list of Colorado's top dispensaries, as chosen by Leafly users
Colorado is a state known for many wonders. Though it's tough to top the splendor of the Rockies, there is unquestionably a staggering wealth of other natural beauty to be enjoyed as well. The same can be said for Colorado's enviable crop of dispensaries, which are rightfully regarded as some of the finest you'll find anywhere in the world at the moment.
Part of it comes from the experience many operators possess, given Colorado legalized cannabis for medical use back in 2000 and was the first to legalize recreational use when voters approved Amendment 64 in 2012. As a result of this early head start, the state today is flush with fantastic dispensaries that offer either medical sales, recreational sales, or a combination of both.
That equated to $2.22 billion in sales in 2021 alone! With so much to consider, we wanted to make things easier. That's why we analyzed Leafly user reviews to find the best dispensaries across Colorado — medical and recreational — as determined by you!
Related
The best rated weed dispensaries in Colorado for 2023
Highest rated recreational dispensaries in Colorado
From Denver mainstays to charming Ft. Collins' mom-and-pop operations, here are some of the best-reviewed cannabis retail outlets in the state of Colorado, according to Leafly's reviewers.
---
6858 E. Evans Ave., Denver — Recreational
⭐ ⭐ ⭐ ⭐ 4.8 star rating out of 1047 dispensary reviews
Reach for new heights with a visit to Denver's Altitude — rated by Leafly users as the top recreational dispensary in all of Colorado!
Across the state, Altitude operates three locations, but as the only one licensed for both recreational and medical sales, it's the company's East Denver shop that serves as a literal hybrid all the best they have to offer. That includes competitive pricing, quality products, and a loyalty program where customers receive special discounts and deals.
"This is the only dispensary I go to," reads a recent five-star Leafly user review. "The staff is the best and I love how friendly they are. Plus, the quality of the products is awesome."
---
7739 E. Colfax Ave., Denver — Recreational
⭐ ⭐ ⭐ ⭐ 4.8 star rating out of 435 dispensary reviews
Now licensed for medical and recreational sales, Denver's Affinity Dispensary goes all out to ensure their store always feels clean, inviting, and comfortable. To that end, you'll find vibrant murals from local artists covering the walls of this dispensary, located just east of downtown Denver. Furthermore, a spacious floor plan adds even more incentive to pay a visit to this one-stop holistic cannabis shop.
"I've been coming here for seven years, and I love it," wrote one Leafly user of Affinity in a five-star review. "[The] staff are very nice and very helpful. The quality is amazing and they have a great atmosphere. I love it here. I'm always recommending them to my friends."
---
6617 S. College Ave., Fort Collins — Recreational
⭐ ⭐ ⭐ ⭐ 4.8 star rating out of 449 dispensary reviews
Locally owned and operated since 2009, Kind Care of Colorado lives up to its name as a dual medical and recreational cannabis dispensary where patients always come first.
"I love Kind Care of Fort Collins and will choose to go there more than any other dispensary in town," a Leafly user shared in a five-star review.
To visit Kind Care and its abundant selection of products, head to College Avenue in Ft. Collins. Once there, you'll be taken care of by friendly budtenders that another Leafly user called "very knowledgeable and kind." With reasonable prices, a convenient location, and a staff of locals who know their stuff, Kind Care of Colorado has earned its place as one of the state's top pot shops.
---
16821 E. Iliff Ave., Aurora — Recreational
⭐ ⭐ ⭐ ⭐ 4.9 star rating out of 1416 dispensary reviews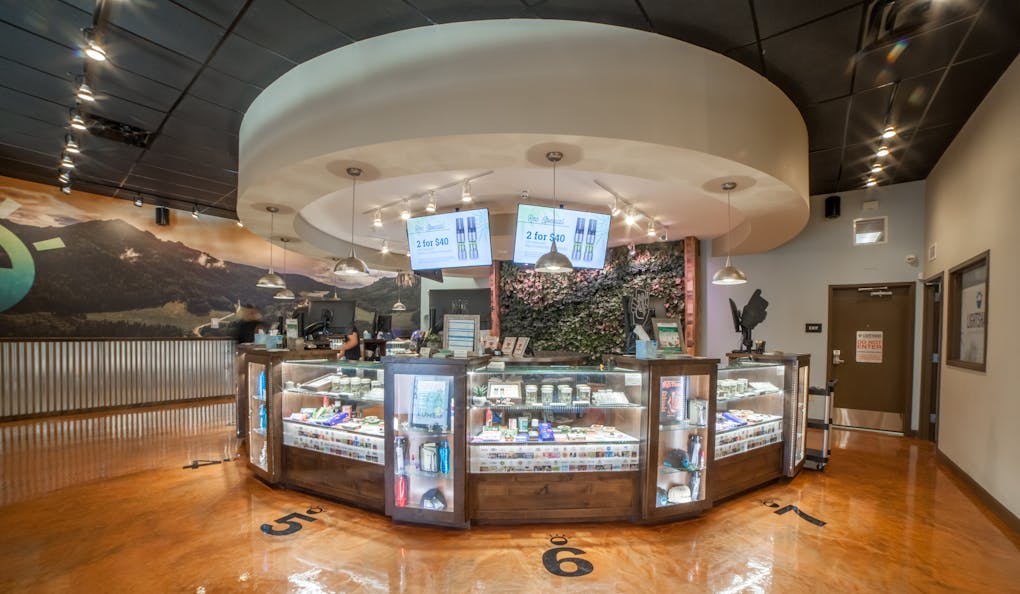 Sleek, stocked, and savvy to all the latest and greatest in legal cannabis, Lightshade's Iliff dispensary in Southeast Aurora has a very bright future. Conveniently located at the Iliff Crossings Shopping Center near Horseshoe Park, customers can take advantage of Lightshade's proprietary Balance categorization system.
Designed to ease the process of finding the perfect sativa, indica, or hybrid, Lightshade's Balance system is complimented by in-house, effect-based strains like Enliven, Rest, and Calm. Offering extended hours and weekly specials, it's easy to see why one Leafly user praised Lightshade iliff for providing an "overall great experience, great strains, [and] helpful bud tenders."
---
4745 W. 38th Ave., Denver — Recreational
⭐ ⭐ ⭐ ⭐ 4.8 star rating out of 1714 dispensary reviews
Have you rolled up to the Joint yet? Voted as a top Colorado recreational dispensary by Leafly users since 2016, this hotspot for great pot is staffed by folks who love cannabis and often partners with other local businesses on live events and fun happenings. The Joint also brings the deals, with special offers designated for each day of the week. Visit on a Monday and score 10% off your entire order!
In a five-star review, one Leafly user shared the "a very simple reason" that's made them a regular at the Joint: "They have amazing people working there that know what they are talking about."
"Really nice and friendly staff who were helpful and made the process easier," added a fellow user in another effusive review. "They always have great deals and the quality of their stuff is top notch."
---
920 W. 104th Ave., Denver — Recreational
⭐ ⭐ ⭐ ⭐ 4.8 star rating out of 248 dispensary reviews
Callie's Cannabis Shoppe is a family-owned and independently operated dispensary with a slogan ("Our Mom Sells Your Mom Weed") that truly speaks for itself. Built on a foundation of providing excellent service and stocking a consistently impressive variety of flower and other product categories, Callie's Cannabis Shoppe may have plenty of old-fashioned charm but they're menu remains cutting-edge.
In total, Callie's Cannabis Shoppe operates three recreational dispensaries, including additional locations in Northglenn and Denver's RiNo District. Callie's Denver, meanwhile, can be found just off Hwy 25 and 8th Ave — a great pitstop for anyone attending an event at nearby Empower Field. Leafly users heaped high praise on Callie's, with one review calling their flower "the best rec I've had in Denver."
Added another: "This place is awesome, great selection, tons of inventory and super nice folks at the counter."
---
Highest rated medical dispensaries in Colorado
As a result of state law, dispensaries in Colorado are required to obtain separate licenses for medical sales and recreational sales. Though a number of the shops listed below cater to customers of both types, some remain medical-only. Fortunately, this distinction does not mean you should expect a dip in quality — far from it! As proof, here are Leafly users' top picks for the best medical dispensaries in Colorado.
---
1101 Academy Court, Fort Collins — Medical/Recreational
⭐ ⭐ ⭐ ⭐ 4.6 star rating out of 297 dispensary reviews
Leafly users love family-owned dispensaries and that goes for the medical-only shops too! Such is the case at Ace's Place, a hidden gem of Ft. Collins that promises its customers "cannabis cultivated with compassion and pride." As a bonus, Ace's is now also licensed for recreational sales, meaning all adults are welcome to swing by and experience the good vibes.
Operating since 2009, Ace's Place has their customers covered with a menu featuring top industry brands like Keef Cola, PAX Era, and Mary's Medicinals. That's in addition to regular deals like Munchie Monday, Waxy Wednesday, and Terpy Thursday, so be prepared to pick the day you visit wisely!
"This is definitely my go to spot and has been for years," wrote a Leafly user in a five-star review of Ace's Place. "They are always friendly and generally keep the line moving quickly. Love that it's pet friendly!"
---
4800 Lamar St., Wheat Ridge — Medical
⭐ ⭐ ⭐ ⭐ 4.7 star rating out of 322 dispensary reviews
If you find yourself in Wheat Ridge, be sure to stop by Best Colorado Cannabis. Family-owned, this dispensary (now offering medical and recreational sales) makes it a priority to give their customers all the time they need while shopping. Without fear of being hustled in and out, they'll be no need to rush as you soak in the down-to-earth atmosphere and equally chill staff of budtenders that make Best Colorado Cannabis a favorite among Leafly users.
In a five-star review, one Leafly user shared that they visit Best Colorado Cannabis "four to five times a month," adding that everyone on staff is "awesome and sweet and informative!" Added another user: "I enjoyed every second of my experience at this shop. Very welcoming and professional."
---
1395 Sheridan Blvd., Denver — Medical
⭐ ⭐ ⭐ ⭐ 4.9 star rating out of 24 dispensary reviews
As a medical only dispensary, Stellar Cannabis Co. in Lakewood takes a patient-centered approach to everything to do. Serving qualified patients aged 18 and older, Stellar Cannabis Co offers an upscale dispensary experience that includes a robust select of products and one-on-one consultations with thoughtful, seasoned budtenders.
"Can't go wrong here!" shared a Leafly user in a five-star review of the store. "They always take super good care of me and have the best advice on what I need based on my wants! Best staff and bud! Never going anywhere else!"
Pun painfully intended, but that is some seriously stellar praise!
---
5101 East Colfax, Denver — Medical
⭐ ⭐ ⭐ ⭐ 4.8 star rating out of 34 dispensary reviews
Now offering both medical and recreational sales, Denver's Verde Natural has a stated goal of sending everyone who visits their store away "with a giant smile on their face." How do they pull it off? By focusing on education, symptom targeting, and making it their duty to know all the minutiae related to the products they stock.
That includes an impressive selection of organic products and a strain menu that one Leafly user called "the best smelling flower I've bought in Colorado" in a five-star review of Verde Natural.
Another called Verde Natural "one of the best dispensaries in Colorado, hands down."
---
4773 Fox St., Denver — Medical
⭐ ⭐ ⭐ ⭐ 4.9 star rating out of 368 dispensary reviews
Established in 2011 as a medical dispensary, Denver's Fox Cannabis became licensed for recreational sales as well in 2014. These days, the Gloveville neighborhood treasure is renowned for offering flower that's all grown in-house and features an intricate process that involves hand-watering and hand-feeding every plant, a cure of at least thirty days, and trimming done by hand as well.
In addition, they also have an in-house extraction company, The Proper Extracts, with some serious hardware to their name in the form of multiple Chalice Cups, a High Times Cannabis Cup, and more.
"This dispensary has become my all-time favorite place," wrote a Leafly user in a five-star review of Fox Cannabis. "The staff is extremely polite and inviting. The place smells amazing and they had some amazing deals."
---
Selection Criteria for Leafly List
To calculate the highest-rated dispensaries in Colorado, our Leafly List team uses a methodology based on quantitative and qualitative review data of dispensaries listed on Leafly, as well as other quality indicators, like reorder rates and deals availability (in markets where discounts are legal). Our teams are dedicated to showcasing a wide variety of highly-rated medical and recreational dispensaries.
Remember, if you don't see your favorite dispensary on the list, make sure you follow, rate, and review your favorite cannabis locations to let the world know where you find your favorite cannabis.
See the 2023 List
The best rated weed dispensaries in Colorado for 2023