Visiting San Francisco? Here are the top weed shops to add to your itinerary.
Related
The best-rated weed dispensaries in San Francisco for 2023
The Bay Area is widely considered the world's weed mecca, and San Francisco, of course, is the heart of the Bay Area. Cannabis consumers are guaranteed to find whatever they might be looking for in the city by the Bay. 
San Francisco is home to dozens of licensed pot shops, as well as many illegal ones selling untested, potentially dangerous products. Leafly lists only licensed shops. (Licensed outlets will have state QR codes in their windows.)
Highest rated recreational dispensaries in San Francisco
Looking for a high-end toke? Several San Francisco shops, including some located in the city's posh Marina District, offer a lux experience and bespoke products (often at lux prices). Other shops are mellower, more eclectic, and more down-home, like those found in the Mission District. Some are even downright funky, like the old-school feel of the dispensaries of the Tenderloin District.  
Here are some of the best-reviewed cannabis retail outlets in the city limits of San Francisco, according to Leafly's reviewers.
---
2520 Mission St., San Francisco—Mission District
⭐ ⭐ ⭐ ⭐ 4.7 star rating out of 276 dispensary reviews
Modest and mission-focused, Purple Star MD is located in the heart of San Francisco, where it has operated since 2013. First a medical dispensary, and now one of the city's best-regarded recreational storefronts, Purple Star dispenses with the frills and concentrates on offering expert service and a wide selection. The shop offers steep daily discounts on a different product category each day.
The owners pride themselves on their connections with the community, giving material support to mostly local organizations like The Shanti Project, the Breast Cancer Emergency Fund, and the San Francisco LGBTQ Community Center. The selection of dabs, in particular, is so wide and varied that one enthusiastic Leafly reviewer found it confusing at first, but says "it's a good problem to have."
---
5258 Mission St., San Francisco—Mission District
⭐ ⭐ ⭐ ⭐ 4.9 star rating out of 14 dispensary reviews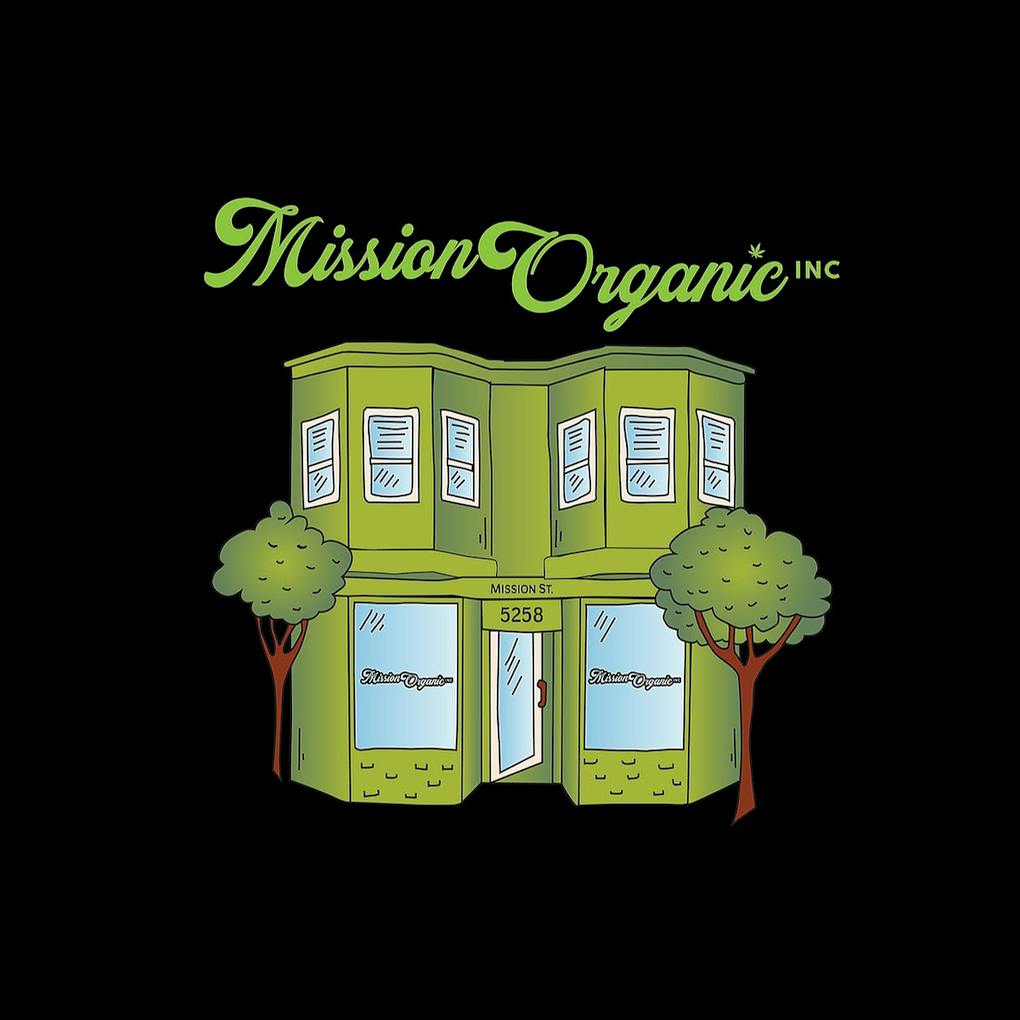 Mission Organic might offer the most authentic neighborhood cannabis experience in the city. Surrounded by modest shops, modest homes, and modest eateries offering lunchtime fare to working people, Mission Organic keeps it simple, without a lot of extra bells and whistles, but with a wide selection of some of the best products on the market.
Convenience is the watchword here, whether you're on the shop floor or ordering from home. It also accepts debit cards.
"Really solid dispensary with a rich selection of high quality weed," one Leafly review concludes. 
---
33 29th St., San Francisco—Mission District
⭐ ⭐ ⭐ ⭐ 4.8 star rating out of 41 dispensary reviews

Consumers are encouraged to get up close and personal with the products at Urbana Mission, where discerning shoppers can hold and smell products and examine labels, something that's not always encouraged in other dispensaries.
Customers also rave about the shop's well-appointed, comfortable in-house lounge, as"We Feel You" is not only Urbana Mission's motto, it's a guiding principle. The shop regularly offers in-store specials and operates a money-saving rewards program. Urbana Mission is "on the fancier side" according to one Leafly reviewer, but "the prices are not too shabby."
---
---
471 Jessie St., San Francisco—Mid-Market
⭐ ⭐ ⭐ ⭐ 4.8 star rating out of 135 dispensary reviews
In some cases, it's best to just let a dispensary speak for itself.
"We believe life is better with cannabis," says The Bloom Room in its mission statement. "We believe that cannabis should be shared. We believe that the intentions and efforts that go into the cultivation, extraction, manufacturing, and sale of cannabis ultimately affect the experience of the person smoking or consuming it. We believe that a professional cannabis dispensary is not just good for the health of its members but for the community in which it serves."
Customers tend to say The Bloom Room lives up to its promise, offering unusually friendly, helpful service. "Couldn't stop smiling the whole time I was inside," one Leafly reviewer writes. "Good vibes."
---
2441 Mission St., San Francisco—Mission District
⭐ ⭐ ⭐ ⭐ 4.7 star rating out of 28 dispensary reviews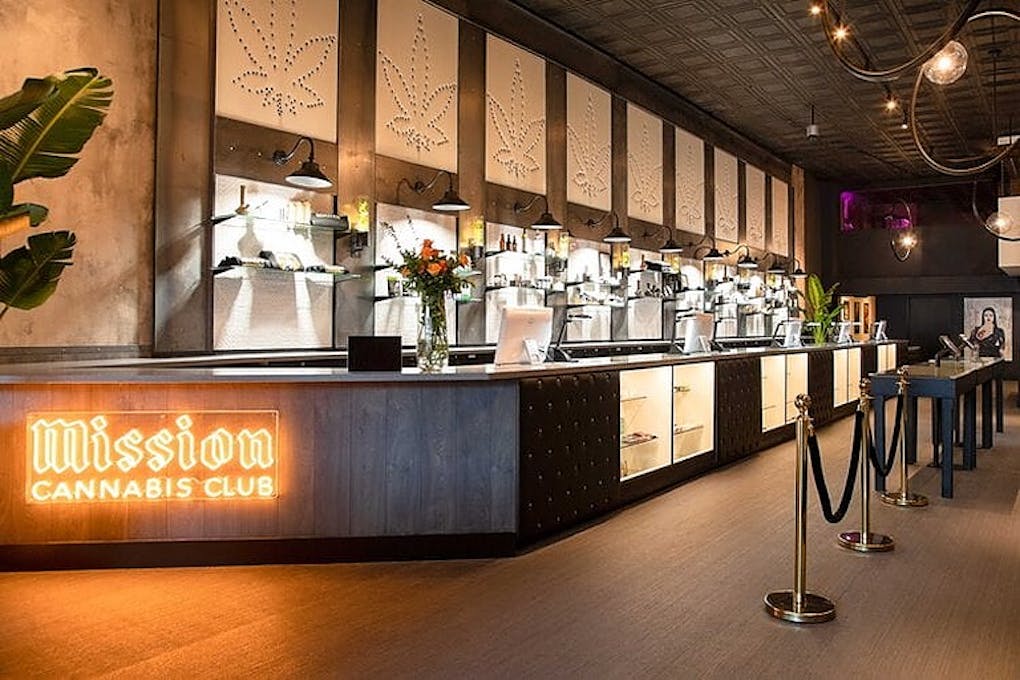 Before it renamed itself, the Mission Cannabis Club was the Shambhala Medical Cannabis Collective, one of the best-known medical marijuana dispensaries not only in the city, but in the country.
The shop has been serving the Mission neighborhood since 2010, and now offers a wide range of products – with a special emphasis on locally produced weed – for both medical and recreational users in its beautifully designed space. Mission Cannabis offers a fun smoking lounge with a relaxed atmosphere and free delivery on orders of $50 or more.
"This place was incredible," enthuses one Leafly reviewer.
---
1326 Grove St., San Francisco—Western Addition
⭐ ⭐ ⭐ ⭐ 4.6 star rating out of 16 dispensary reviews
It's no surprise that many of Leafly's best-reviewed pot shops started as medical marijuana dispensaries well before California legalized weed for adult use.
The experience medical-dispensary owners gained prior to 2018, when adult-use sales began, transfers perfectly to serving recreational consumers. BASA Collective (it stands for Bay Area Safe Alternatives) has been around longer than most, serving patients and now also recreational customers since 2003.
The shop is small, but it's homey and carefully tended, and it offers just about anything the average cannabis consumer might want. The fact that medical patients still heap praise on the place says it all.
"Speedy service and nice folks," writes one of them in Leafly's reviews section.  
---
2442 Bayshore Blvd., San Francisco—Visitacion Valley
⭐ ⭐ ⭐ ⭐ 4.7 star rating out of 22 dispensary reviews
Elevated San Francisco prides itself on offering personalized attention to every customer, whether they are a neophyte or a cannabis veteran.
"Each individual patient or recreational customer that comes in is treated as an individual," the shop promises. "We tailor the experience to you and your needs." Customers seem to agree.
"Even though Elevated didn't have my strain, they made sure I didn't walk away unhappy," one Leafly reviewer notes. "This level of friendly service is simply unmatched anywhere else in the Bay."
---
Honorable Mentions
4811 Geary Blvd., San Francisco — Inner Richmond
⭐ ⭐ ⭐ ⭐ 4.4 star rating out of 55 dispensary reviews

Much like their sibling dispensary in San Francisco's Mission District, Urbana Geary is designed to ensure customers can actually engage with their inventory. Featuring a spacious interior and friendly budtenders, Urbana Geary also has a consumption lounge and a dab menu to match. "The staff is always super friendly and the security guards are respectful too," wrote one Leafly user. "This is my regular spot and I'm really glad they're in my neighborhood."
---
Selection Criteria for Leafly List
To calculate the highest-rated dispensaries in San Francisco, our Leafly List team uses a methodology based on quantitative and qualitative review data of dispensaries listed on Leafly, as well as other quality indicators, like reorder rates and deals availability (in markets where discounts are legal). Our teams are dedicated to showcasing a wide variety of highly-rated medical and recreational dispensaries.